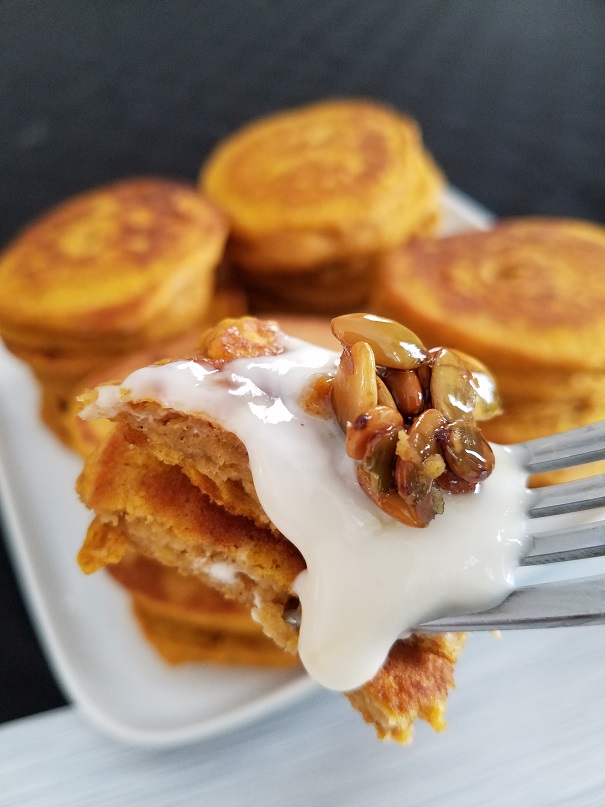 As if I even need a reason, one of my favorite things about these pancakes beside the obvious (hello – they are PANCAKES!), is they use a whole can of pumpkin puree! No smidgen of pumpkin left behind in the fridge for weeks until it's unrecognizable. Despite all of your good intentions to make something spectacular with ¼ cup of pumpkin, it always goes unused – but not anymore! Topping them with a maple yogurt cream (of course you could use a maple whipped cream too – I won't tell) and a pumpkin seed brittle puts them over the top. They are so light, fluffy, and delicious you will want them every day of the week.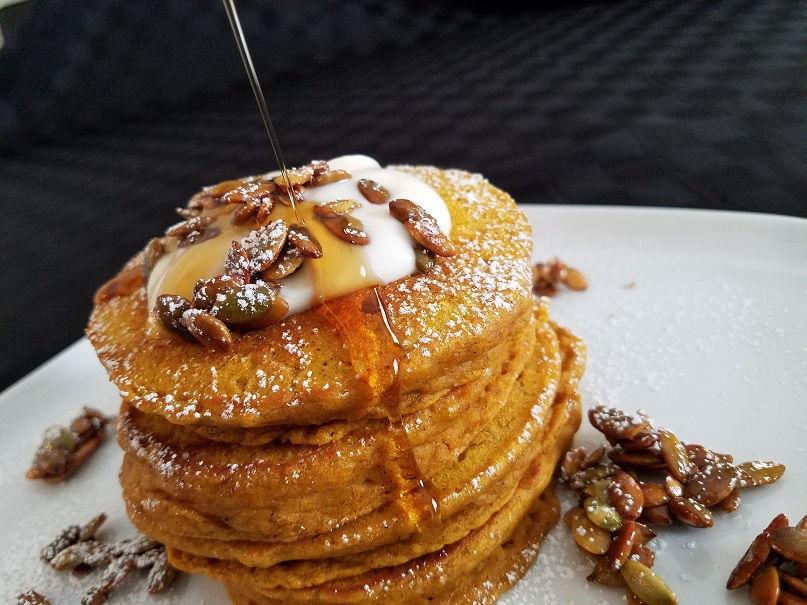 So why did I decide to make them? Yesterday morning I looked in my pantry and found I had 6 cans of pumpkin, which for some reason have no memory of purchasing! There must have been an after Thanksgiving sale, or like rabbits – they are just multiplying. Nevertheless, I was extremely happy to find them. Gone are the crisp days of autumn, when everything was made with pumpkin and I miss that. Plus, pumpkin has so many health benefits. They are rich in vitamin A, fiber, beta-carotene, have more potassium than bananas, and some studies say they keep your skin looking young, In addition, the pumpkin seeds may help elevate your mood – what's not to love about that? Maybe I should call these happy pancakes – they did make me happy!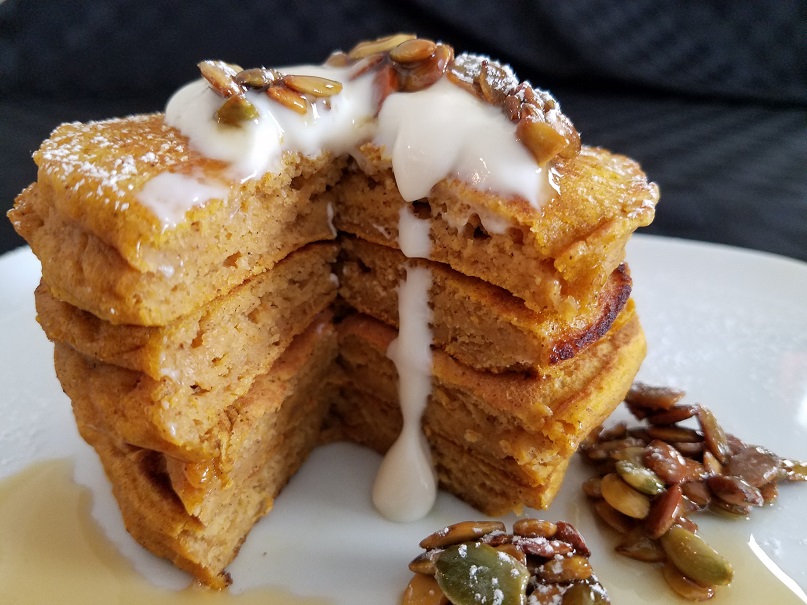 Years ago, I came up with a basic pancake mix which has just a few ingredients. I have never liked using pancake mix from a box; it contains so much sugar and salt. I took that recipe and tweaked it by adding pumpkin and spices to it plus a healthy addition of yogurt for a little extra protein. They are ready in less than 30 minutes start to finish – which is a plus. If I plan ahead and measure out my dry ingredients the night before, when I wake up in the morning, I'm that much closer to eating these mouthwatering, and healthy pancakes. Let me know what you think. Enjoy!
This recipe makes 20 delicious 4" pancakes or 16 delicious 5" pancakes
Ingredients
2 ½ cups all-purpose flour
1 tablespoon baking powder
½ teaspoon baking soda
2 teaspoons pumpkin pie spice
2 teaspoons cinnamon
1 ½ teaspoons salt
½ teaspoon ginger
1 ¾ cups regular milk at room temperature (I used almond milk*)
1 – 15 ounce can pumpkin puree (I used Libby's)
2 extra-large eggs (at room temperature)
¼ cup fat free vanilla Greek yogurt (can be omitted to be dairy free)
3 tablespoons real maple syrup (honey or sugar would work too)
2 tablespoons of unsalted butter melted (or sub a healthy oil to make them non-dairy)
2 tablespoons of unsalted butter to butter the griddle (or spray oil)
2 teaspoons vanilla extract
Toppings:
Maple syrup spiked Greek yogurt cream
½ cup vanilla fat free Greek yogurt
1 tablespoon real maple syrup
Pumpkin seed brittle
½ cup pumpkin seeds (also called pepita seeds)
1 tablespoon maple syrup
pinch of salt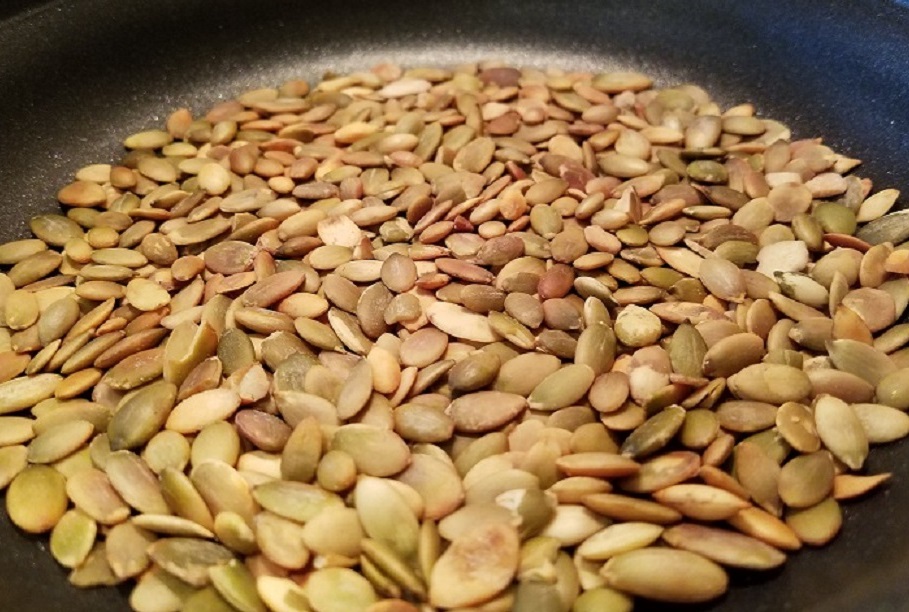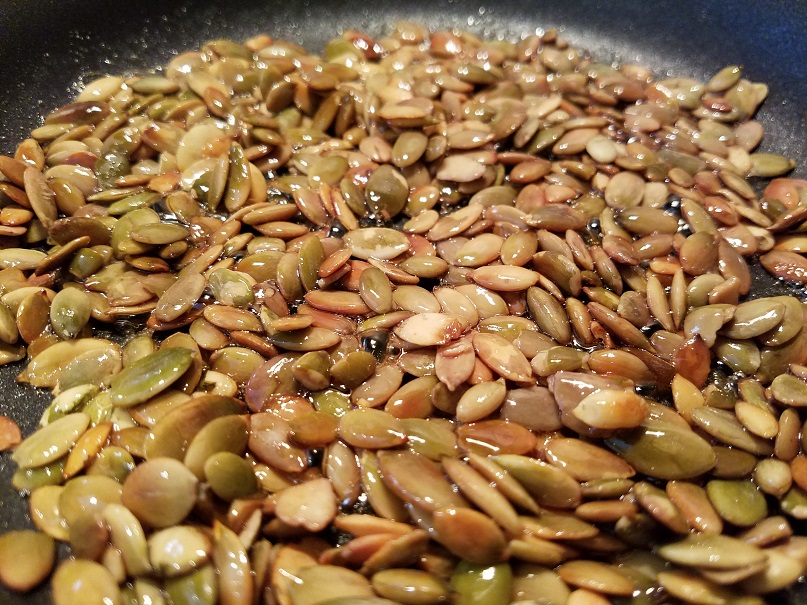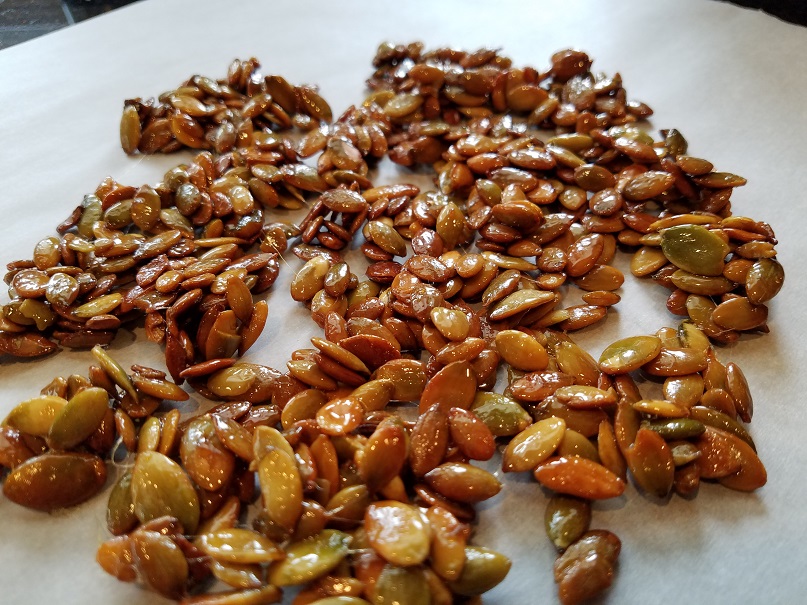 Directions
Before prepping your ingredients, heat a non-stick griddle or large frying pan on medium heat.
In a medium size bowl add all the dry ingredients, whisk together and set aside.
In a larger bowl, add the wet ingredients and mix until well blended. One notable tip, when using a spoon or spatula, make sure not to use one which is clear or white. The pumpkin will turn it orange. I learned this the hard way!
Add the dry ingredients into the wet about 1 cup at a time until combined. Then let the mixture sit for a couple of minutes. Butter or spray your pan and pour the batter onto the hot griddle. So they come out the same size, you can use a measuring cup or I like to use a large ice cream scoop (aka a disher). Depending on the size of the pancake you want, use a 1/3 cup for a 4" pancake and ½ cup for a 5" pancake. I think I have every size scoop and some doubles to keep one parve and one dairy. They are the best kitchen investment you can make.
The pancakes are ready to flip when they brown slightly around the edges and you see bubbles starting to form. They are pretty thick and may brown before they bubble so keep an eye on them. It should take about 2 or 3 minutes per side. Flip, plate, top with the yogurt and brittle and enjoy!
For the yogurt topping, mix together ½ cup plain nonfat Greek yogurt. For the brittle, place the pumpkin seeds in an 8" frying pan on medium/low heat. Stir them around until they toast lightly about 4 minutes. Add the pinch of salt, maple syrup and cook until the liquid evaporates, about 2 minutes. Pour them onto parchment paper to cool.
*I have made these pancakes so many times and tried different milks, they all work well. I generally use almond milk as I did with this recipe.