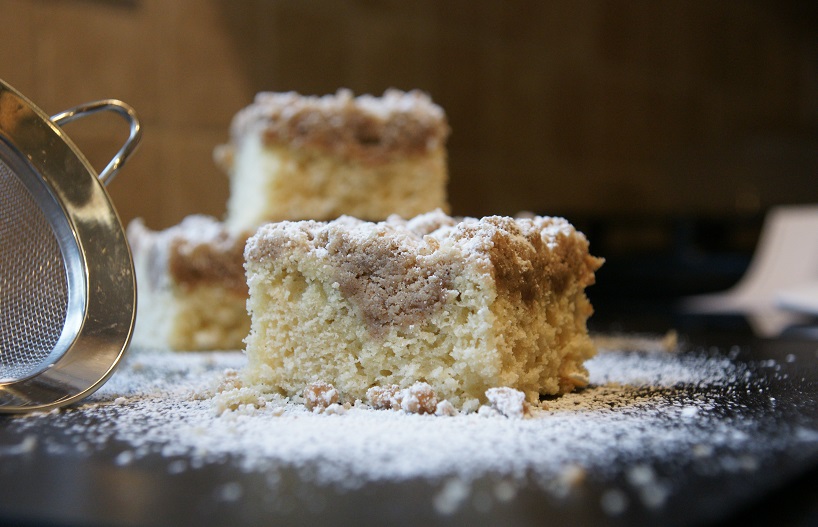 Usually I miss a big national food holiday, but not this time! Just in time for National Coffee Day…. I present to you an Amazing and Delicious New York Crumb Cake. Let's face it, coffee is great on its own, but who can pass up a good piece of coffee cake? Not this Jewish girl from Brooklyn! Plus, all of you will need something to go with the free coffee you're going to score today – Am I Right?
You all know by now how much I love my iced coffee, but did you also know how much I love my crumb cake – or any coffee cake for that matter? Let's just say my husband doesn't call me his little coffee cake for nothing! The love runs deep, both for the husband, and the coffee cake!
A quick coffee cake lesson because you may have noticed I've been using the term coffee cake interchangeably with the term crumb cake…
Coffee cake is quite literally cake you have with coffee. Crumb cake falls under that umbrella just like it's cousins the sour cream walnut cake, streusel squares, or marble cake. Crumb cake is a type coffee cake, and no two coffee cakes are alike – but are similar if that makes sense. Crumb cake implies a crumb or streusel topping. All coffee cakes may or may not have a crumb topping, but all go well with coffee. Most people use the term crumb and streusel interchangeably, however, the sugar/butter/flour ratio is a little different. A real crumb cake will be about a 50/50 crumb to cake ratio. A streusel cake will have less and a lighter sprinkling on top. One more quick note, sometimes you have cake with coffee, but that doesn't automatically make it a "coffee cake" take for example birthday cake – this is not coffee cake. There you have it, everything you wanted to know about coffee cakes but were afraid to ask! However, if you do have more questions, just ask and I'll get back to you in-between bites!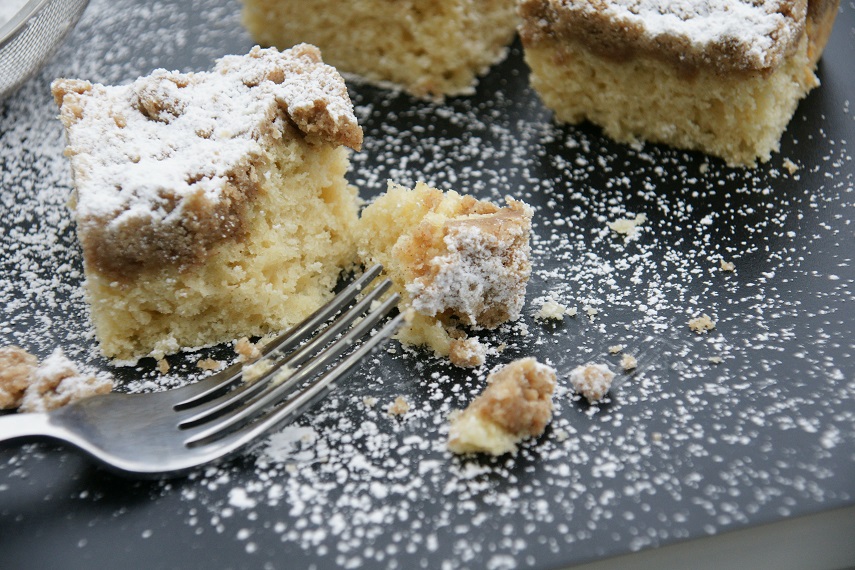 So now on to the recipe… I've tried my fair share of crumb cake recipes and while I have loved them all, this one is by far the best I have found. I think it's the crumb to cake ratio which really hits the mark for me. I adapted it from Johnny Iuzzini's cookbook Sugar Rush. If you have a chance, you have to check it out – it's just beautiful, informative, and with clear instructions for the home baker to follow. Oddly enough, he got the recipe from a home baker who was one of his interns. I think all home bakers should have a good coffee cake in their repertoire – you'll be an instant hero to all of your friends! This recipe could not be easier, the cake is moist and tender and the buttery, cinnamon crumb does not disappoint. Coming from this New York Girl, this is quite an endorsement! Of course, I did change a couple of things, but not much. A little extra salt here, a little less fat there and voilà my splash is added. I used low-fat milk and low-fat sour cream but feel free to use whole if you'd like. I made the recipe both ways and didn't notice that much difference, so I might as well save the calories, and then maybe enjoy a second piece!
Just remember, I said this is a crumb cake (50/50 topping to cake). It will look like you don't have enough batter, but you will. It is a very thin layer that when baked, puffs up. You will also think you have way too much crumb topping… nonsense! You can never have enough! What happens is the cake rises because of the baking powder/sour cream reaction and the crumb, not so much so even Steven.
One more last thing, before you get started baking, here are a couple of National coffee day links to find free or discounted coffee near you. Enjoy!
http://time.com/money/4961486/free-coffee-deals-national-coffee-day-2017/
https://www.columbusonthecheap.com/free-perks-on-national-coffee-day/
Cake:
2 cups all-purpose flour, plus more for the pan
1 tablespoon baking powder
½ teaspoon of kosher salt
5½ tablespoons (1/3 cup) unsalted butter
½ cup granulated sugar
¼ cup low fat sour cream, at room temperature
⅔ cup 1% milk, at room temperature
1 large egg, at room temperature (I used extra-large it's all I ever bake with)
1 tablespoon good vanilla extract
Crumb Topping:
2¼ cups all-purpose flour
1¼ cups packed light brown sugar
1 tablespoon ground cinnamon (I use Vietnamese cinnamon)
½ pound (2 sticks) unsalted butter, melted
Confectioners' sugar, for dusting
Makes one 9 x 13 inch cake and serves 12 to 16 people. I guess that depends if you are New Yorker or not!
Preheat the oven to 350 degrees F. and set your rack in the center of the oven. Spray a 9 x 13 inch glass baking dish with cooking spray, dust it lightly with flour and invert it over the kitchen sink to tap out the excess. Set aside.
I like to start with the crumb topping and then set it aside until the batter is done. Whisk together the flour, brown sugar, cinnamon and salt until combined. Add the melted butter and stir until the dry ingredients have absorbed the butter. With your hands, gently mix the crumb mixture and roll it in-between your palms and fingers to create the crumbs. Set aside.
For the cake… In a large bowl, whisk together the flour, baking powder and salt. Set aside.
In the bowl of a mixer set to medium, use the paddle attachment and mix together the butter and sugar until light in color. Add in the egg and sour cream blending until it is mixed well.
In a separate bowl, whisk together the milk and vanilla. With the mixer on low, alternate the wet and dry ingredients starting and ending with the dry ingredients. Don't forget to scrape don't the sides of the bowl with a rubber spatula. Mix until just combined – do not over mix.
Spread the batter evenly into the prepared pan. It's a thick batter; you can use an offset spatula to spread it as evenly as you can. Using your hands, scatter the topping evenly over the cake batter.
Bake for about 30 minutes or until the center of the cake is firm to the touch and springs back lightly. If the cake is not baked through, reduce the temperature to 325 degrees and continue baking in 5 minute increments until it is set in the center making sure the topping doesn't get too brown. If this happens, you can lightly cover it with foil.
Let the cake cool completely then dust it with the Confectioners' sugar. While it's cooling, go put on a pot of coffee!