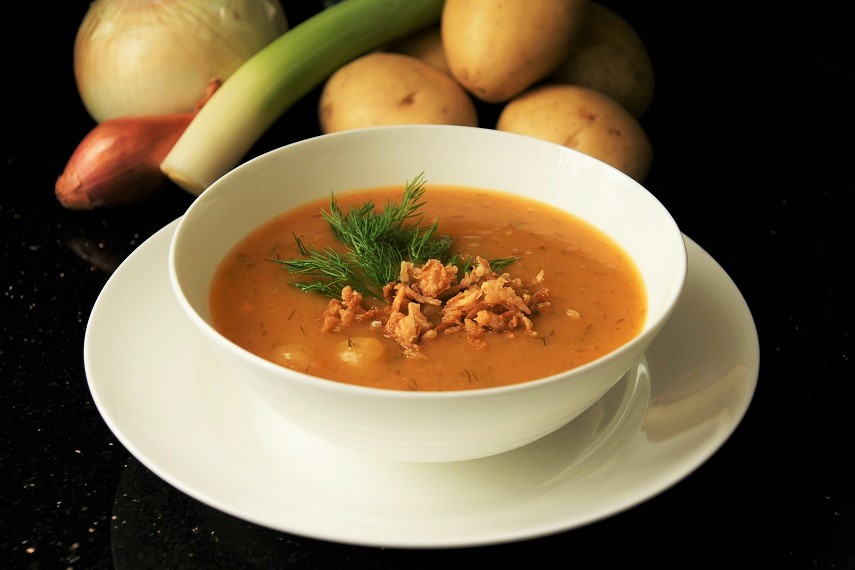 If you are craving comfort food, my Prescription: Ratner's Potato soup! It may not seem like good medicine, but I promise it is.
Last week was filled with ups and downs for me. It was bookended by two grandbabies being born to two different friends both named Lisa! Monday, I lost my driver's license (not a big problem in the scheme of things, just a nuisance!) Tuesday, my coworker left work and headed to see her closest friend who is in hospice. I was out of sorts the rest of the day thinking about and praying for her. Wednesday, a dear friend of mine lost her father. Thursday, after four cold and very grey days, I tried to write, but realized I was just blocked and couldn't. The bright spot to my week was seeing photos of two beautiful baby boys! Of course, I forgot to get a new license!
Friday, I went to the BMV (Bureau of Motor Vehicles) with an envelope containing my birth certificate, passport, social security card, and marriage license, everything to prove who I am. While sitting there 20 minutes or so, I leafed through my identity envelope, as I like to call it, and what do you think was wedged in my passport? My driver's license – I had it all along! What it was doing in my passport is an entirely different story for another time. The good news is I caught it before waiting another half hour and being embarrassed at the desk when they called number 47!
I got into my car and said out loud… REALLY! What I knew for sure, is I needed something comforting for dinner and I knew just the prescription: Ratner's potato soup! The only problem, Ratners was a restaurant in NYC that is now closed, and while they use to sell it in the freezer section of the grocery, they no longer do.
Now for the good news… I have the Ratner's Cookbook and I can share it with you! Ratner's was a Kosher Dairy restaurant on the Lower East Side of Manhattan for almost 100 years (97 to be exact!). They had the best everything and their soups, memorable and amazing.
To read more about the restaurant, click on the link http://unofficialmadmencookbook.com/blog/ratners-kosher-restaurant-the-harmatz-family-shares-memories-of-the-mad-men-era-a-recipe-and-giveaway/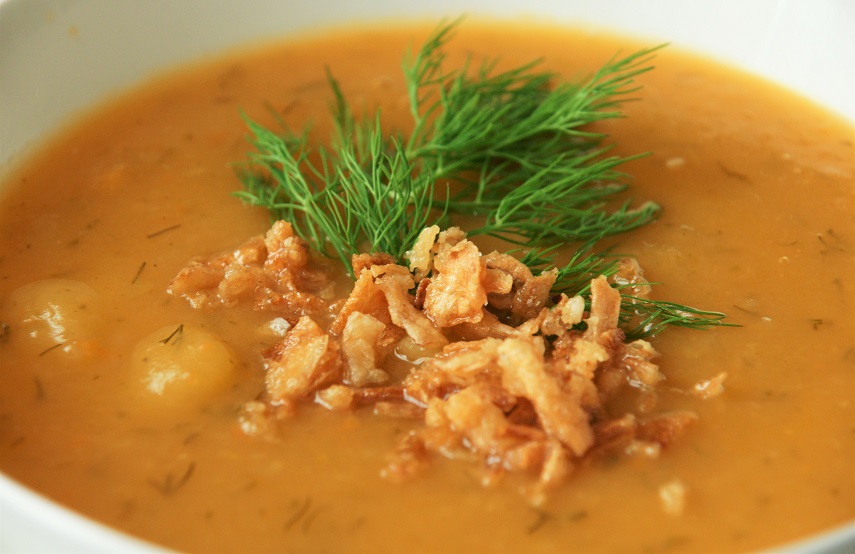 Directions
In a large frying pan, add 1 tablespoon of olive oil, a pinch of salt, and one cup of the diced onions. Cover and leave on medium heat for 15 minutes. After 15 minutes, uncover and keep cooking while preparing the rest of the soup. You may need to add another tablespoon of olive oil. The onions should not sauté dry. You want to break down the onions until they are soft, falling apart and golden brown. This step is to take the place of the baked onions* called for in the original recipe.
In a stock pot (Ratners called it a kettle!) add the remaining 2 cups of onions and two tablespoons of olive oil. Sauté until translucent then add the leeks. When the onions just start to brown, add the carrots, celery, green pepper, parsley, tomato juice, vegetable stock, water and salt. Bring to a boil, lower heat and simmer, covered for 40 minutes.
The original recipe calls for blending the soup at this point. I remember the soup having some potato pieces in it and wanted that texture. With a slotted spoon, I took out about 2 cups of potatoes and set them aside. Stir in the caramelized onions, dill and pepper, blend thoroughly. I used a hand held stick blender for this. Then I added the potatoes back in to the soup. Add two tablespoons of butter, allow to melt and stir well. Finally taste the soup and check for seasoning. You may like more salt or pepper so feel free to add it a pinch at a time.
I served it with a sprinkle of fried onions on the top. It added a great textural crunch and for me, reminiscent of Ratner's delicious onion rolls they served alongside! Enjoy!
Serves 10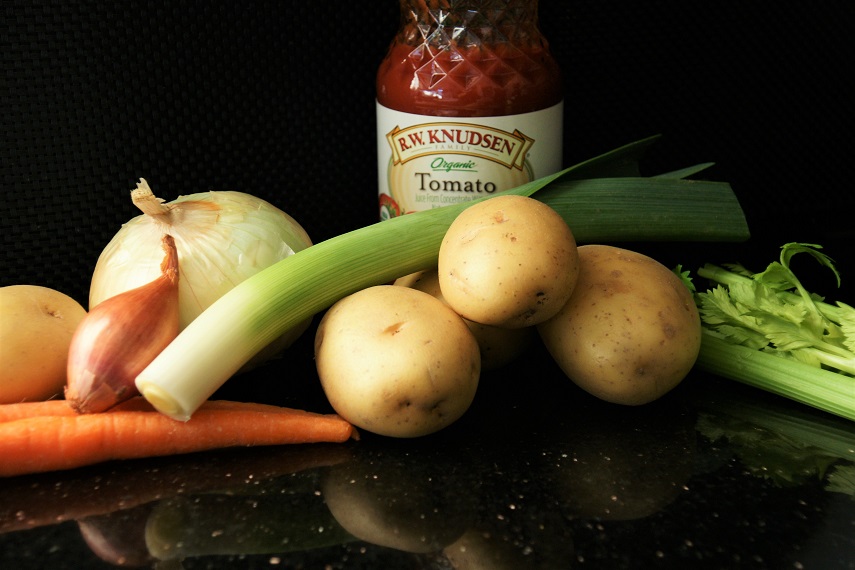 * The original recipe called for 2 quarts of water and no stock. I used a quart of vegetable stock for flavor since I cut the salt down from 2 tablespoons to 2 teaspoons, I felt it needed something more than water.
**BAKED ONIONS… I chose to use caramelized onions for a couple of reasons. First, the amount of butter added, second, I like the taste of caramelized onions and thought they would be a rich compliment to the soup. The original recipe called for ½ cup baked onions) If you would like to try it, the recipe is as follows:
1 cup clarified butter
3 lbs onions, peeled and sliced
Preheat oven to 350F. Stir butter into onions in a 9 x 13 baking pan. Bake for 1 1/2 hours, or until golden brown in color. Stir occasionally. Cool and refrigerate till needed. May be stored in refrigerator up to 2 weeks.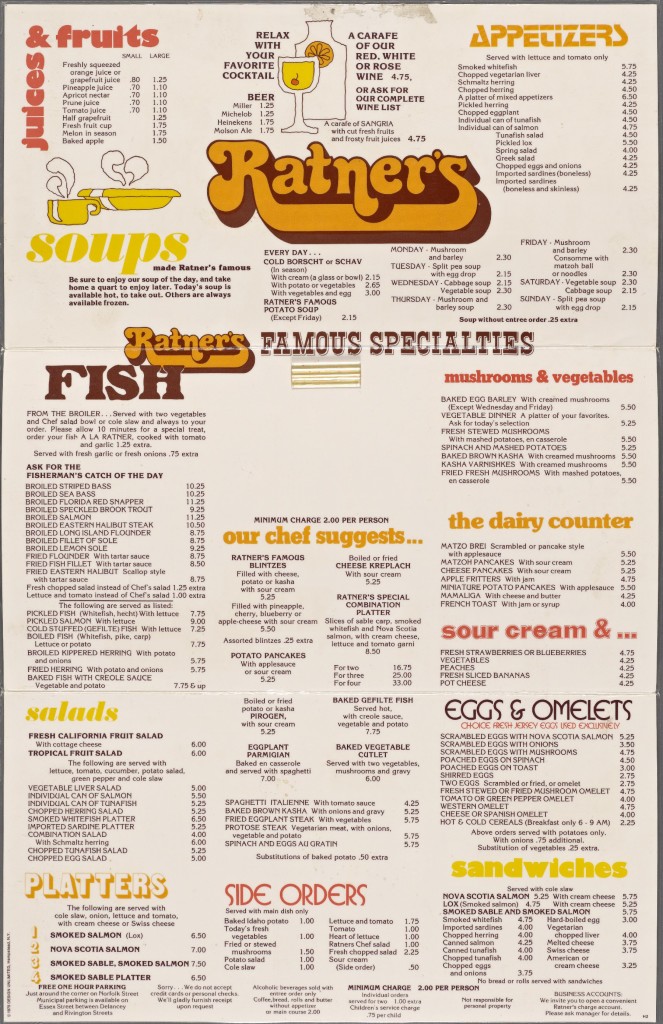 Photo of the menu compliments of The New York Public Library