Is it possible I own over 100 cookbooks? Apparently it is, and I can't believe I put it out there for everyone to read! Before I sat down to write today, I didn't know what I wanted to talk about; I just knew I wanted to start a dialog about cookbooks. But what do I want to talk about? Do I want to tell you about my favorites. Do I want to share how and why I got the books I did. Do I want to share a recipe from one of them. Should I be like Julie Powell from the famed Julie and Julia Blog and cook my through one of my books? Where do I begin? Maybe I should start by explaining how my cookbooks multiplied like rabbits!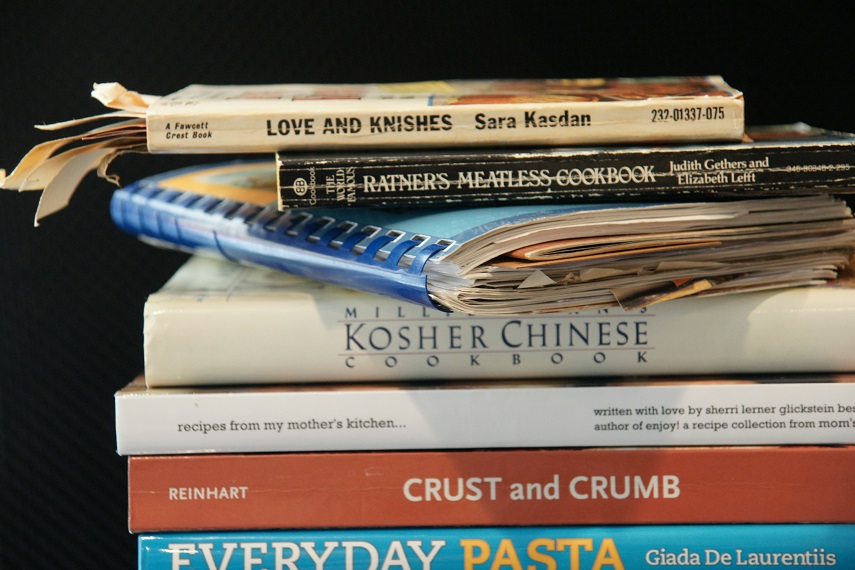 At some point when I moved to NYC, I became a cookbook collector. Maybe it was all the hours I spent at the Strand Book Store http://www.strandbooks.com/ at the corner of 12th and Broadway. With an iced coffee in hand I could easily spend the day leafing through the art and design books, poetry books, and biography's, but somehow I always ended up by the cookbook section. My collection grew as the years went by. When I got married, my mother gave me 3 cookbooks plus one she had handwritten just for me with some of her famed recipes. That little cookbook she gave me was the start of something really great.
Over the years, many became gifts from family and friends. My husband was a business consultant and wherever he traveled, he came home with a cookbook. Still not sure what I'm going to do with that Mormon Cookbook from Utah! There was also the cookbook of the month club I joined and a new one would show up every month. Then I found Kitchen Arts and Letters http://kitchenartsandletters.com/bookstore/ a bookstore which sells only cookbooks! Can you hear the ethereal music playing in the background? I can! Lucky for me, Columbus has it's own special book store called The Book Loft http://www.bookloft.com/  It has 32 rooms of books, three of them containing cookbooks!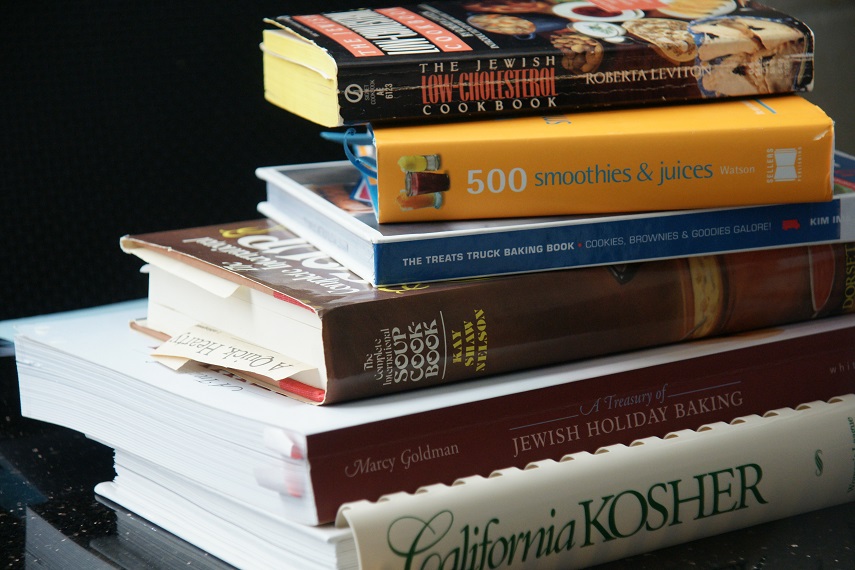 Over the years I realized I enjoy reading cookbooks the same way other people read novels. Right now the books on my nightstand are Modern Jewish Cooking by Leah Koenig, Cookie Love by Mindy Segal, Martha Stewart's Appetizers and Clear Your Clutter with Feng Shui by Karen Kingston. Since I counted over 100 cookbooks on my bookcase, that Feng Shui book is looking like a must read and will remain on the top of the stack!
Do I have a favorite? Well I'll have to channel my mother here and say no, I have 10 fingers and I love them all the same! The same can be said for my collection. They each have a reason for taking their place on my shelf. Whether it's the style of cooking, a chef I like, history, a particular region, or technique; they all have a place in my heart. I do have a soft spot for any cookbook with beautiful photography. Some are so stunning, they warrant a special place on my coffee table! I treasure the ones I have from my mother and mother-in-law with their handwritten notes and newspaper clippings of recipes used as place markers. Both great cooks and bakers who never needed a cookbook but, like me, enjoyed reading them cover to cover like a novel.
This past winter, I signed up to be part of a cookbook swap. I guess I thought I needed yet another cookbook! It was so much fun to get a cookbook in the mail and if you're keeping track, this book makes the count 101!  I'll share more about the swap in another post. In the meantime…
Tell me about your favorite cookbooks so we can start our own cookbook of the month club! We can call it What are you "Reating" unless you think that's way too corny! I think it could be fun to find out what cookbooks you, my fabulous readers are using. Until then, happy cooking… and sweet baking.