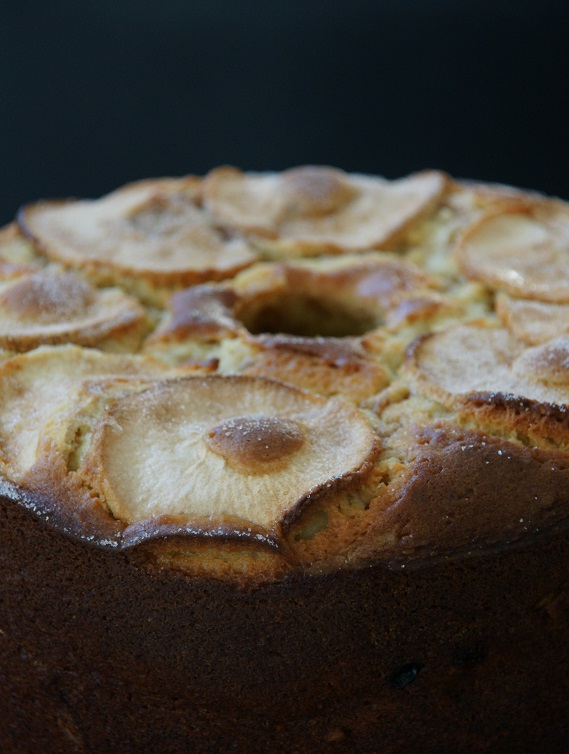 This post was originally titled Jarred's Holiday "Layered" Apple Cake.
I find the need to repost this recipe every year as is it is a timeless classic. It is exactly similar to so many out there who claim theirs is the best (of course, mine is!). Whether it's my mom's apple cake, grandma's delicious apple cake, a clipping from a magazine or old newspaper, one from your favorite cookbook or blog, or Marcy Goldman's everybody's Jewish apple cake, it makes no difference – they are all delicious, and pretty much the same. So whichever recipe you use, I hope the scent of apples fill your home with the sweet aroma of the New Year ahead! Oh, and of course you should use my recipe, it's the best one! Enjoy!
Now for the repost… In the Fall, I always find myself with a plethora of apples. If you've been following my blog, you know I've already gone apple picking twice – yielding almost 50 pounds of apples! At this time of year I find myself adding apples to almost everything that I bake. There are apple pancakes, my mother's applesauce, apple pies, crumbles and crisps, and my baked apple doughnuts, among the top contenders. However, if you're looking for something very special and easy – it's apple cake.
"Jarred's Holiday Apple Cake" has been in my recipe binder for the past 18 years. I know the exact amount of time because it was 18 years ago when I sent out holiday cards to family and friends with a personalized recipe inside the card. It's not an old family recipe that was handed down to me, it was personalized and printed by the card company and titled "Jarred's Holiday "Layered Apple Cake" after my then one year old son. Oddly, in all of those 18 years, I never made the cake!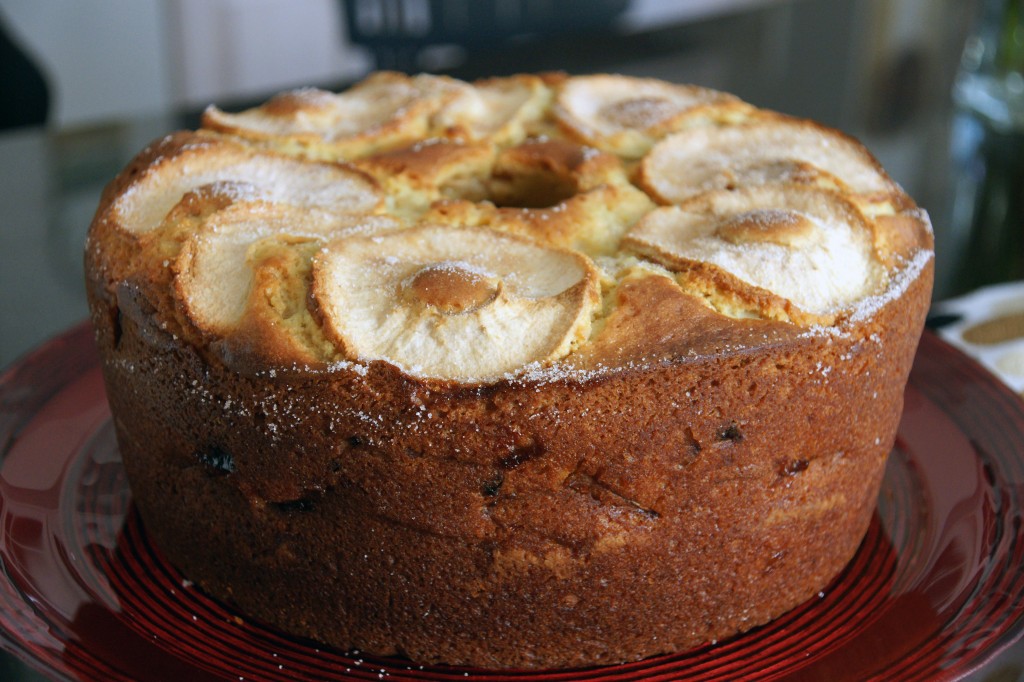 I figured it was something made up for show by the card company. Last year, my sister-in-law Barbara was telling me about the delicious apple cake she made and how easy it was. I asked her for the recipe and she  laughed and said, it's Jarred's apple cake. I was very confused. Had my son become a baker and I didn't know it?
Apparently, she had been using the recipe from the card for a while and loved it! So I guess it really worked after all! She said it also freezes great if you want to make it ahead of time. I don't think it would make it to the freezer in my house, but it's good to know! This year I made it, and she was right; it's terrific and super easy! So here it is, straight from the card which reads… Best wishes for a New Year filled with all of the ingredients for good health, happiness, and peace. Enjoy!
Ingredients:
2 cups sugar (I cut it down to 1  1/2 cups)
3 cups all-purpose flour
1 teaspoon salt
3 teaspoons baking powder
1 cup vegetable oil (I use sunflower oil)
4 eggs
1/4 cup orange juice (or pineapple juice, which I prefer)
2  1/2 teaspoons vanilla extract
Now for the apples:
4 to 6 apples* peeled and sliced (yield about 6 to 7 cups)
1 tablespoon lemon juice
5 teaspoons sugar
2 teaspoons cinnamon
Directions:
Preheat the oven to 350 degrees. Generously grease a 10″ tube pan** and set aside. I sprayed the pan generously with canola oil but you can use butter if you are not keeping it dairy free.
In a small dish, mix 5 teaspoons of sugar with the 2 teaspoons of cinnamon together and set aside. This will be used in the layers over the apples.
Peel and slice the apples, mix with lemon juice to keep the apples white and set aside. I use an apple slicer that cores, peels and spirals the apple into rings then chop it from there. I reserved one apple to decorate the top.
Beat together until smooth the sugar, oil, eggs, orange juice and vanilla. In a separate bowl whisk together the flour, salt and baking powder. Add the dry ingredients to the wet and mix together just until incorporated.
In the tube pan, pour a layer of batter, then place a layer of apples, and sprinkle about 2 tablespoons of the cinnamon sugar mixture. Repeat layering pattern until all of the batter and apples are used. I ended up with 2 layers of apples and 3 layers of batter. Try to keep the apples in the center of the pan, so they don't stick to the sides. The original recipe says to top with sugar and cinnamon mixture which is what I did for my smaller cakes. The big cake I topped it with rings of apples and sprinkled it with about 1 to 2 tablespoons of plain white sugar. You can do it either way – both delicious and pretty.
Bake at 350 degrees for 1 1/4 hours to 1 1/2 hours or until a cake tester comes out clean.  I like to check it every 30 minutes and turn it 1/2 way through the baking time.
*I used a combination of granny smith, jonathan and golden delicious because that is what I had on hand. Any good baking apple of your choice will work very well in this recipe.
**This recipe will also make 6 miniature loaf pans (1 pound size) or 3 regular size loaf pans (2 pound size). I only made one layer of apples in these versions and they bake in about 40 to 55 minutes.