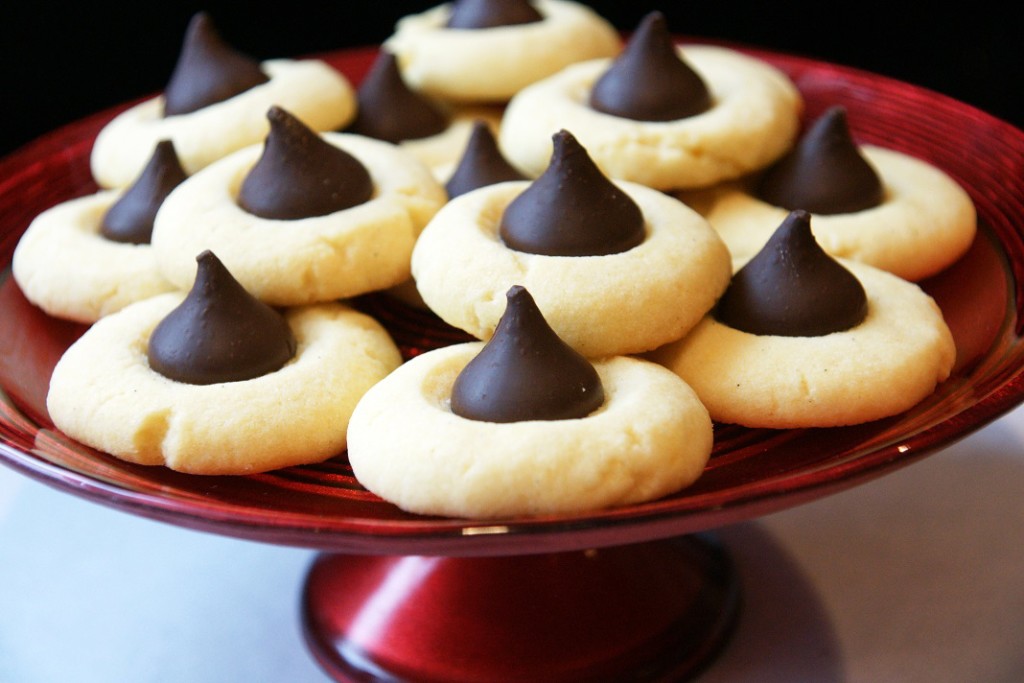 With Valentine's Day quickly approaching, I wanted to send a Kiss from me to you, in the form of what else? A cookie! Thumb cookies with a kiss – A Hershey's Kiss that is. I don't have a long story to tell you about these cookies; I wish I did. If you are an avid reader of my blog, you'll know from last year's post, I don't celebrate Valentine's Day. http://www.splashofsherri.com/2015/02/13/happy-valentines-day-how-do-you-tell-someone-you-love-them/ I do however celebrate cookies! Every year I use this week as an excuse to bake cookies nonstop and send them to people I love – as if I needed an excuse to do that!
These are a quickest cookie you will ever make; therefore, this will be the quickest post I will ever write so you can get right to it. What I will tell you is they were one of my mom's specialties and probably one of her most requested cookies. They melt in your mouth, are so easy to put together, and very versatile. You can fill them with a chocolate kiss, jam, or even caramel.
The batter is not like any other cookie I have seen and calls for a very unusual ingredient. Wait for it… wait for it… hard-boiled egg yolks. Yes, you read that correctly – hard-boiled egg yolks! The first time I made them, I was skeptical but they turned out great. The cookie is similar to shortbread and what I found is the egg yolk gives the cookie body. My mom would mash the egg yolks very finely with a fork. I used a fine hand grater and it worked terrific. You could also use a microplane if you have one. If not, a fork worked for my mom and will work for you too!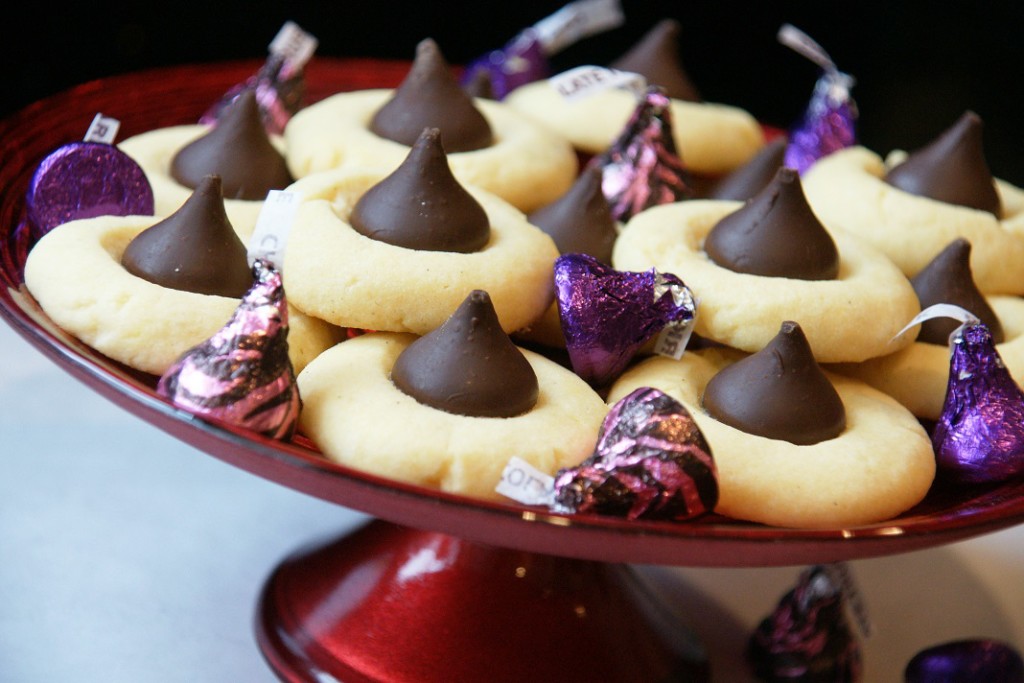 If you need a tip on how to cook the perfect hard-boiled egg click on this link from a post I wrote two years ago. You definitely want a beautiful bright yellow yolk for these! http://www.splashofsherri.com/2014/09/16/the-perfect-hard-boiled-egg/
So if you love someone, and that someone could be you, whip up these cookies and give yourself a kiss – you deserve it! Enjoy!
Ingredients
2 cups flour
3 hard-boiled egg yolks only (I used extra large)
½ cup sugar
2 sticks plus 1 tablespoon of butter softened at room temperature
1 teaspoon vanilla*
Pinch of Kosher salt
50 Hershey Kisses (I used dark chocolate – for heart health!)
Optional: Jam (your favorite flavor)**
Directions
Preheat the oven to 350 degrees. Prepare two cookie sheets with parchment paper and set aside.
Separate the eggs and set aside the whites of the eggs (you can save them to eat later). Cream together the butter, sugar and vanilla. Grate in the egg yolks and blend well. Then add the flour and pinch of salt mixing till combined.
Roll small balls of dough about 1" (approximately 2 teaspoons) and place on a cookie sheet lined with parchment paper about an inch apart. I used the smallest cookie scoop which holds 2 teaspoons so every cookie would come out the same size. Press down the center of the dough with the Hershey Kiss.
Bake on the center rack of the oven for 10 – 12 minutes turning the cookie sheet half way through the baking – don't over bake them. This recipe makes 4 dozen cookies
*you can change the flavor of the cookie very easily by using a variety of different extracts. I have made them with almond extract and they taste amazing.
**If using jam, I like to use a Hershey's Kiss to make the indentation but you can also use your thumb – hence the title – thumb cookie! Use about ½ to ¾ teaspoon of jam. Use any flavor you like. My favorite is raspberry or blackberry. Don't overfill, they will run out of the center.