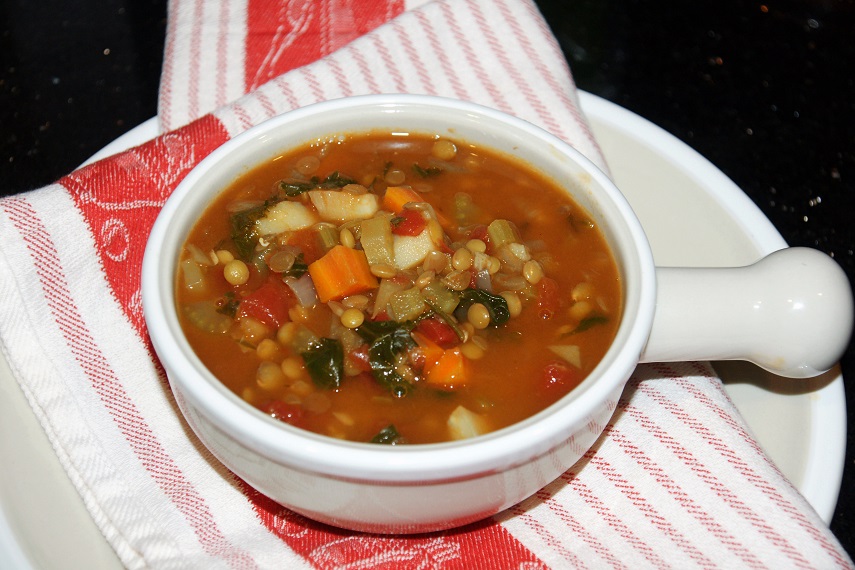 Last week we had an unexpected guest for Thanksgiving… lentil soup! We were in Virginia for the holiday and my sister-in-law Barbara went all out with the dinner. The table was filled with a bounty of people, and a bounty of food. There was two of everything! It was like Noah's Ark as two by two dishes came to the table – even two pumpkin pies! I was happy I was able to contribute a little something and brought my cranberry sauce (luckily I brought two!). Now that I think about it, I brought two pans of stuffing, and two bottles of wine!
Dinner included a turkey of course, stuffing, vegetables, gravy, and a special sweet potato soufflé made by my niece Sara – all the usual stars of the show. To start the meal she served two soups, one butternut squash (with a nice kick of heat) and an unexpected guest – the lentil soup. It was delicious and a welcome surprise.
Yesterday I went to the grocery and bought a bag of lentils, carrots, onions, and celery. Basically this is all you need for the base. I always have vegetable stock and cans of tomatoes in my pantry so I was ready to go. This isn't my sister-in-law Barbara's recipe, maybe we'll be lucky and she'll share it with us! My recipe is a combination of a family recipe with a "splash" of extra vegetables and a little less lentils than most recipes. I've made variations of this for years and each time, it comes out great. This time I added a parsnip but if you don't like parsnips leave them out or swap in a diced potato. At the end of cooking, I added a handful of chopped spinach but if you don't like spinach leave it out or swap in kale. I have made it with water instead of vegetable stock – still good – it's indestructible!
On a cold night I love lentil soup; it's high in protein, a good source of fiber and magnesium, and a quick and easy soup to prepare. The next time you are at the grocery, pick up a bag of lentils – you'll be thankful! With bread and a salad, this soup makes a whole meal, so don't wait until next Thanksgiving to make it! Enjoy!
Ingredients
1 ¼ cup green lentils picked over and rinsed
2 tablespoons olive oil
1 large onion peeled and diced
2 carrots peeled and cut into small dice (equivalent to 1 ¼ cups)
2 stalks of celery diced (equivalent to ¼ cups)
1 – 28 ounce can of diced tomatoes
1 – 32 ounce container of low sodium vegetable stock
2 tablespoons fresh parsley minced
1 to 2 cloves of garlic minced
2 bay leaves
1 teaspoon kosher salt (more or less to taste)
1 teaspoon black pepper (more or less to taste)
Optional
1 parsnip or potato diced
handful of chopped spinach or kale
1 cup cooked elbow macaroni
Directions
In a large stockpot on medium heat, sauté the onion and garlic with the olive oil 10 to 15 minutes, or until translucent. Add the celery and carrots and sauté for 10 more minutes (if adding parsnip or potato, add at this time as well). Add the vegetable stock, tomatoes, bay leaves and lentils. Cover and bring to a boil. Reduce the heat and simmer covered for 1 hour or until the lentils are cooked through. Add the parsley, salt and pepper to taste. If you are adding spinach or kale, add it in at the end. Taste the soup to check the seasonings and adjust accordingly. This soup freezes great.
2 hours to prepare. Makes 8 to 10 servings