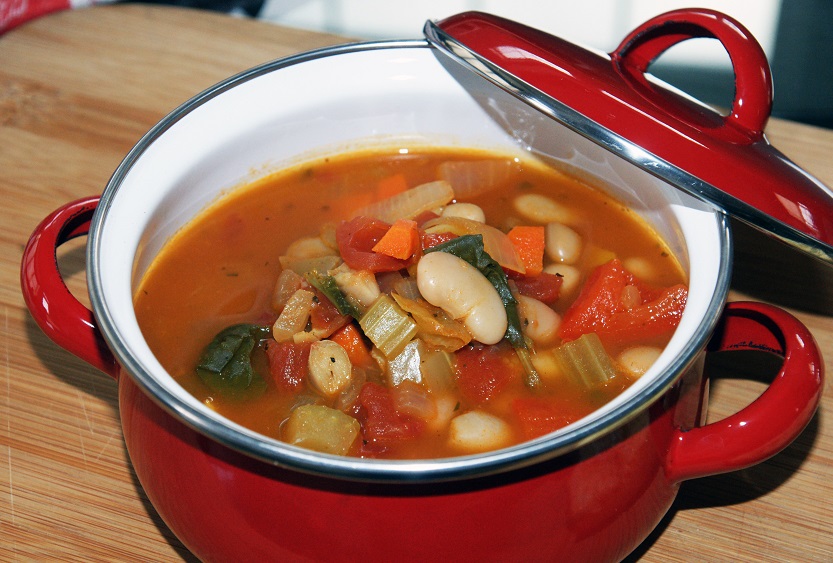 I truly have no story about this soup. It's not linked to a family memory, favorite restaurant, or anything in particular. I was planning my husband's birthday dinner last week and needed a starter to go with the meal. It was very cold outside so I knew I wanted to make a soup. My main dish was simmering away on the stove and I needed something quick. I searched online for mediteranean soups and came across this Tuscan Vegetable Soup from Ellie Krieger. It's made with ingredients I had on hand, makes 6 servings and only took 30 minutes to make from start to finish. This seemed like a winner plus it got a review of 5 stars. I would like to add my 5 stars to that review! Enjoy!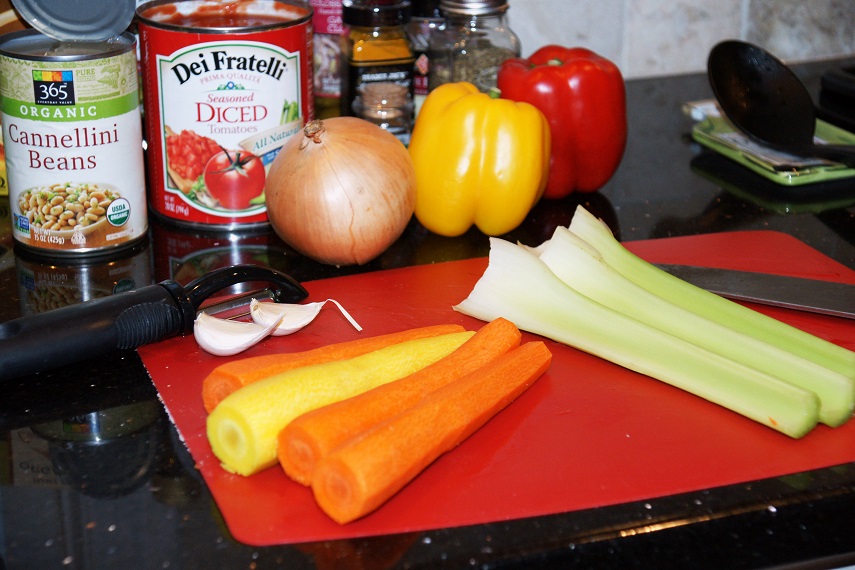 The recipe is adapted from Ellie Krieger's Tuscan Vegetable Soup with a few changes. She uses zucchini which I didn't have so I substituted two peppers and also boosted the amount of vegetables a little. The recipe called for thyme and sage which I also did not have so I used Herbes de Provence which contains both sage and thyme. All we need is parsley and rosemary and we have a song! You know Simon and Garfunkel…
Are you going to Scarborough Fair?
Parsley, sage, rosemary, and thyme
Remember me to one who lives there
She once was a true love of mine
I can't be the only one that sings that when I'm cooking with these herbs. Am I?
1/2 large onion, diced (about 1 cup)
2 to 3 carrots, diced (about 1 cup)
2 to 3 stalks celery, diced, (about 1 cup)
2 peppers cut into 1″ pieces (I used one yellow, one red but any combination is fine or use 1 small zucchini)
32 ounces vegetable broth
1 (28 ounce) can diced tomatoes
1 (15-ounce) can low-sodium canellini beans, drained and rinsed
2 cups chopped baby spinach leaves (or combination kale, Swiss chard and spinach)
1 to 2 tablespoons olive oil
2 cloves garlic, minced
2 teaspoons herbes de provence*
1/2 teaspoon salt
1/4 teaspoon freshly ground black pepper (or more to taste)
1/3 cup freshly grated Parmesan (optional)
Heat the oil in a large soup pot over medium-high heat. Add the onion, carrots, celery, garlic, salt and black pepper. Cook stirring occasionally until the vegetables are tender, about 5 minutes. Now add the peppers and or zucchini, mix and cook for a couple of minutes longer.Add the vegetable broth and diced tomatoes with the juice and bring to a boil. Add beans and cook for about 5 minutes, then add the spinach leaves and cook until it's wilted, about 3 minutes more.Serve topped with fresh grated Parmesan, if desired.