I have to admit, lights out summer gazpacho is a funny name for a recipe. It's definitely not the original name I came up with. However, 10 minutes after I finished photographing this beautiful soup, I put it in the refrigerator, went upstairs to write this post and the lights went out in my house! The computer shut down and my post was lost. What would happen to my delicious gazpacho? I ran downstairs and poured myself a bowl. Topped with some avocado, cucumber and a drizzle of extra virgin olive oil, this cool refreshing soup took my mind off how hot my house was! It was the perfect dinner. I think the blackout worked to my advantage – and yours. The other story I wrote was quite long! You will be happy to know that a mere 3 hours later my lights were back on and the gazpacho was just fine. Gazpacho is a cold Spanish soup, made with tomatoes, peppers, cucumbers, and onions. It takes less than 30 minutes to put it all together and only gets better with age. There aren't too many soups you can say that about.
I don't know about you, but among the many staples I have in my kitchen, are onions, garlic, tomatoes, cucumbers, peppers and tomato juice. With these few ingredients you are always ready for a Bloody Mary (just add vodka) can make everything from a tzadziki dip (just add Greek yogurt!), roasted vegetables, add cheese and bread and make a panini, and of course this quick, easy and delicious gazpacho.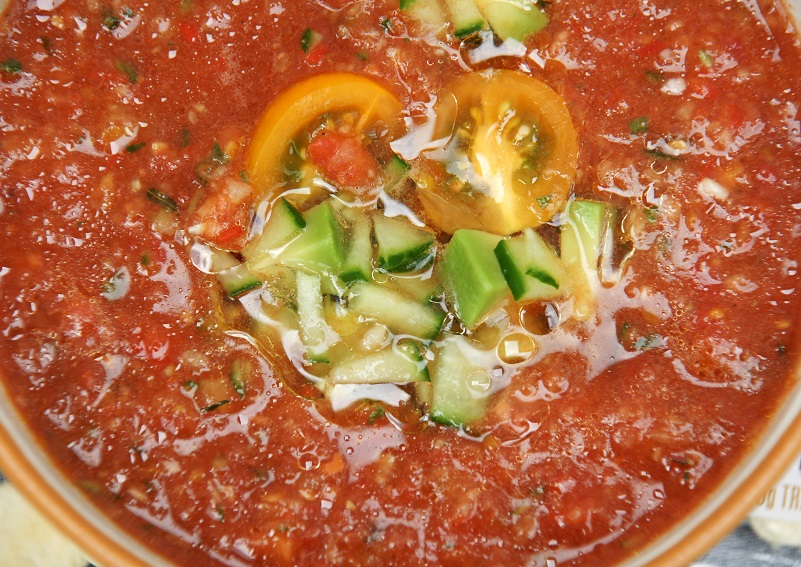 One thing I like most about living in the Midwest is the amount of local farms around. Throughout the year we go blueberry picking and apple picking which can't be beat! Whenever possible, I like to buy my produce at the farmer's market where you can find the most amazing and beautiful varieties of vegetables. In this recipe, I used Roma a.k.a. plum tomatoes and cherry tomatoes but you can substitute any kind of tomato. I have made it with heirloom, which I know can be expensive but worth the flavor it adds, tomatoes on the vine, cherry tomatoes, or a mixture of several varieties. During the summer, you can find sweet and delicious Vidalia onions – use them for everything! In Georgia they say people eat them like they would a peach as they are so sweet. Two fun little facts: they are Georgia's official state vegetable – and I'm a huge fan!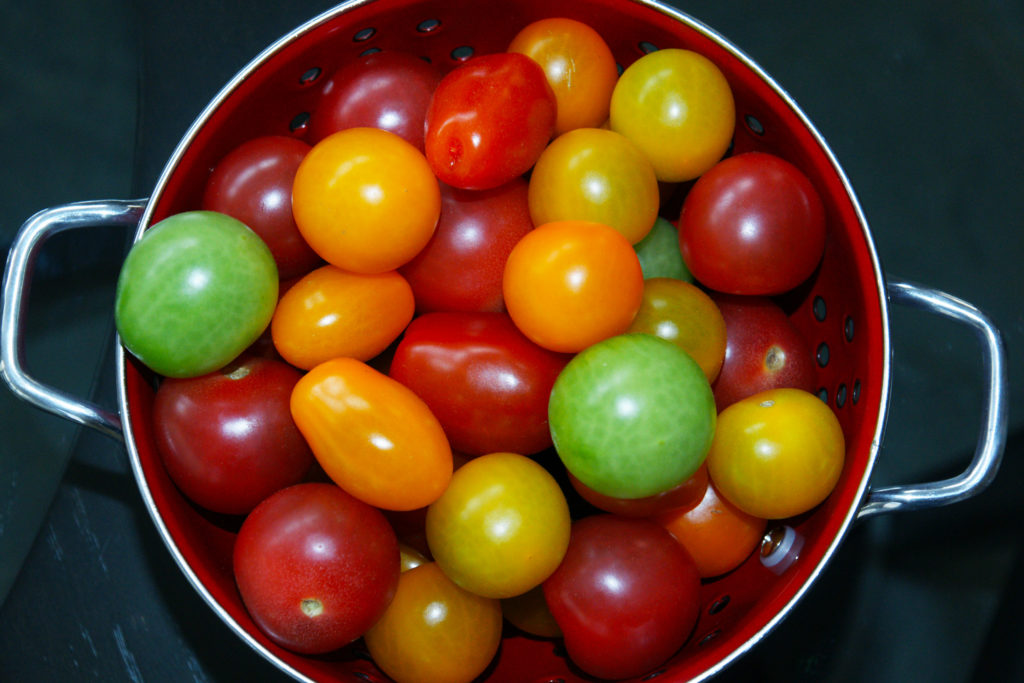 Aside from the weekly farmer's markets we have throughout the summer, there are local farms you can go to for picked that day produce. The one I frequent most is Smith Farm Market in Gahanna, Ohio. They are very conveniently located and open 8 months out of the year. If you are lucky enough to live in an area where you can go straight to the source for your fruits and vegetables you should make the effort, there is nothing like fresh farm grown fruits and vegetables… Enjoy!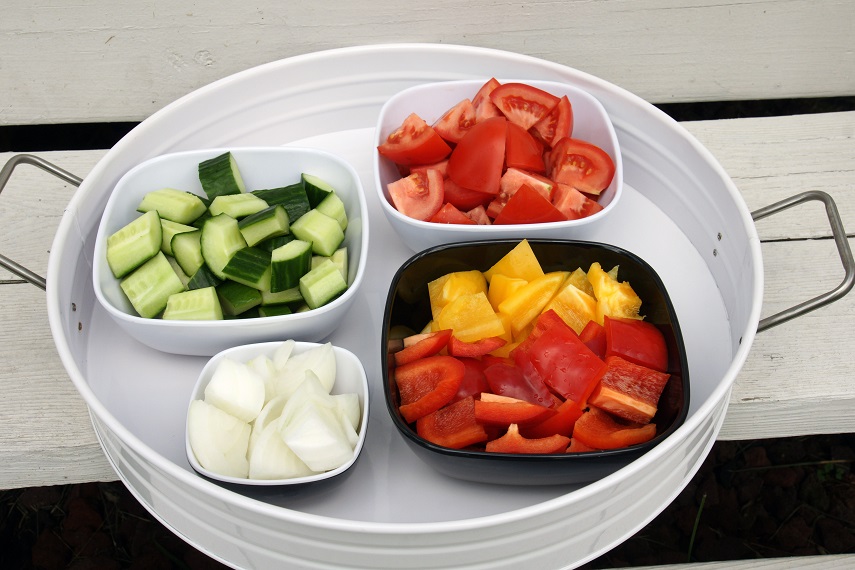 4 plum tomatoes
1 pint red teardrop tomatoes
2 bell peppers (any combination of red, yellow or orange)
1 English (aka hot house cucumber) cut in 1/2 and seeded
1 sweet onion cut into large pieces (if vidalia onions are in season, use them!)
4 cups low sodium tomato juice (I use Trader Joe's low sodium Garden Patch)
1/4 cup white wine vinegar
1/4 cup good extra virgin olive oil
3 to 4 cloves of garlic minced
2 teaspoons salt
1 teaspoon black pepper
1 teaspoon sugar
hot sauce (optional)
Garnishes: avocado, croutons or oyster crackers, finely diced cucumber, sliced olives, feta cheese or grilled fresh corn kernals.
Cut the tomatoes, peppers and onions into approximately 1″ pieces. Slice and take the seeds out of the cucumber. Mince the garlic and add to the onion. Put the vegetables into the food processor one at a time and pulse until it's coarsely chopped. Don't process it too fine. Then after you process each vegetable, add it to a large bowl or pot.
Add the tomato juice, vinegar, olive oil, salt, pepper and sugar. Mix well and chill before serving. You can top it with any of the garnishes suggested or come up with one of your own.
This recipe makes 6 to 8 servings.