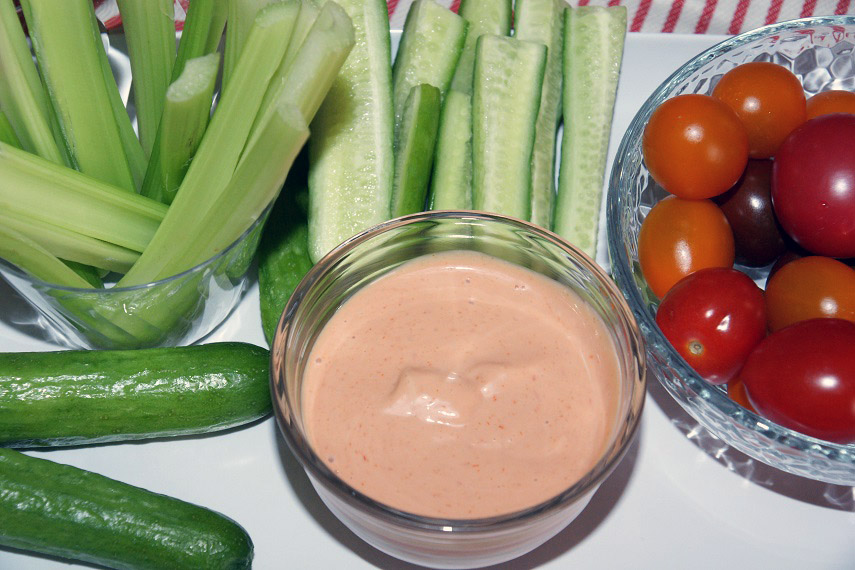 When I was growing up, I don't remember vegetables having a starring role at our dinner table. Sure we had corn on the cob, green beans, or peas and carrots, but mostly I remember salad before most meals or a half of a grapefruit with a maraschino cherry on top. For the salad, my mom would cut a head of iceberg lettuce into wedges and serve them with some cherry tomatoes and sliced cucumbers on the side. This was nothing fancy, but with the addition of her homemade Russian dressing – it was delicious! It's a great dip for vegetables, everyone loves it (especially children), it's easy, contains ingredients you probably have in your refrigerator, it is non-dairy, and you can even use it as a spread for turkey sandwiches!
It's a staple on my table with raw vegetables at least 3 nights a week and something my boys always agree on. However you decide to try my mom's homemade Russian dressing, I hope you Enjoy!
2/3 cup Hellmann's mayonnaise (I use regular but you could use light or low fat)
1/3 cup Heinz ketchup
1 to 2 teaspoons of water
Optional #2 Variations
1 teaspoon garlic powder or
1 to 2 teaspoons no salt seasoning (I use Costco's Kirkland brand Organic no salt seasoning)
Option #3 Thousand Island dressing
Add 1/8 cup of sweet relish to the first four ingredients and omit the options.
Directions
In a small bowl mix the mayonnaise till creamy, then add the ketchup and mix together. You can adjust the ratio of mayo to ketchup depending on how you like it. If you are using it as a dip for vegetables, you'll want it on the thicker side. If you are planning to using as a dressing over lettuce, add a splash of water until it's the consistency you like.
When making either of the variations in #2, you'll want it to sit for about 1/2 hour for the flavors to blend.