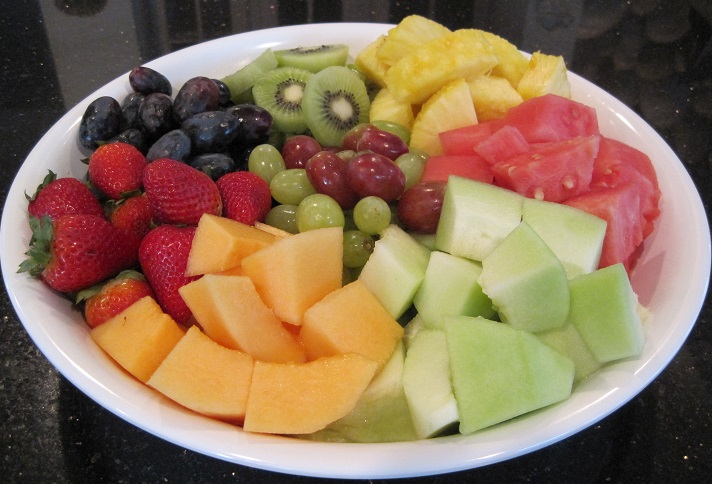 When I have a dinner party, I like to cook and prepare everything myself. If someone wants to bring something I'm happiest with wine and fruit. I think that's a great hostess helper. So I suppose for me Sangria would be a bonus! You know, fruit in the wine! Many years ago I invited a family for dinner and when asked what they could bring I said "how about fruit?" What a surprise when they showed up with a tremendous bowl filled with a small can of fruit cocktail in the wee bottom. When she handed it to me she said, "I'm not really a good cook!" I thought that was the funniest thing I had ever heard.
So how do you make a nice presentation when serving fruit? Well if you're truly not a cook and find the whole thing overwhelming, buy three different color grapes and put them side by side in a nice bowl or glass pie dish with the green grapes in the center. Another way is to make a fruit salad with different color fruits of various textures and sizes. Then you can put it in a pretty bowl and mix it all together. Just make sure the bowl size is appropriate to the amount of fruit you plan on using. However, I have never been big on the fruit salad; I prefer to separate the fruit by like kind. I think presentation wise it looks really pretty that way, and I like the idea of being able to select whichever fruit you like the best.
My sister Francine makes a beautiful fruit tray. People often ask her to bring that when she is invited to their home. One of her tricks is the type of tray she uses. It's a large Lucite tray with divided removable containers that sit on top. It makes it easy to put the similar quantities in each container making for a nice balanced fruit platter. For my first anniversary she bought me one as a gift and I use it often and think of her every time I do.
What can you do if you don't have a beautiful tray to serve it on? First, cut your fruit in similar shapes and sizes. Use a large shallow bowl and place like fruit together. Then disperse the fruit so that no two same colors are sitting next to one another. It's a simple idea yet look how beautiful it is! If you like to serve yogurt or cream cheese dip you can place that right in the middle. Enjoy!