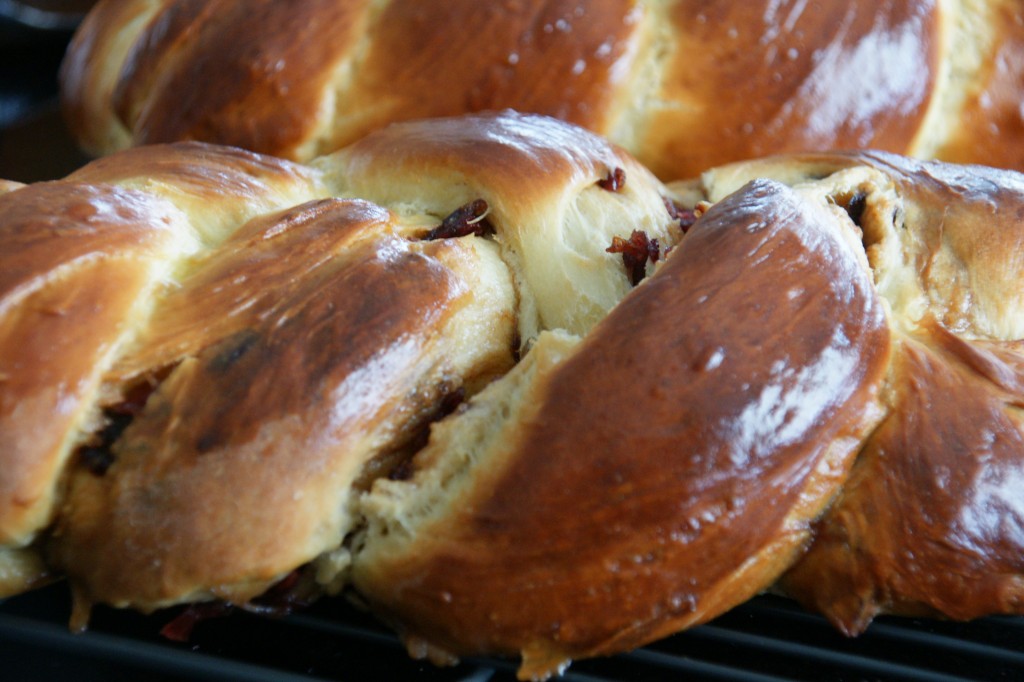 It seems fitting my first post would be a recipe for challah. I bake challah most every Friday. It is a ritual that has become such a special time for me and I look forward to it every week. I wake up early and while the coffee is brewing I mix all of the ingredients to make this delicious traditional bread for Shabbos. There is something wonderful and magical about baking bread especially for Shabbos. It's a time for ending the week and renewal for the next. What better way to do both with a nice warm piece of homemade bread?
Most Fridays, I make a plain sweet challah. But every now and then I change it up a little. Today I decided to make it with cinnamon sugar and cranberries. You can see the cranberries wanting to bust out of the bread and scream "hello, look at me" and you can't resist! It takes a lot of willpower not to want to tear a piece off straight from the oven. Sometimes I make myself a little treat and make a couple of small rolls so I can enjoy them with my lunch.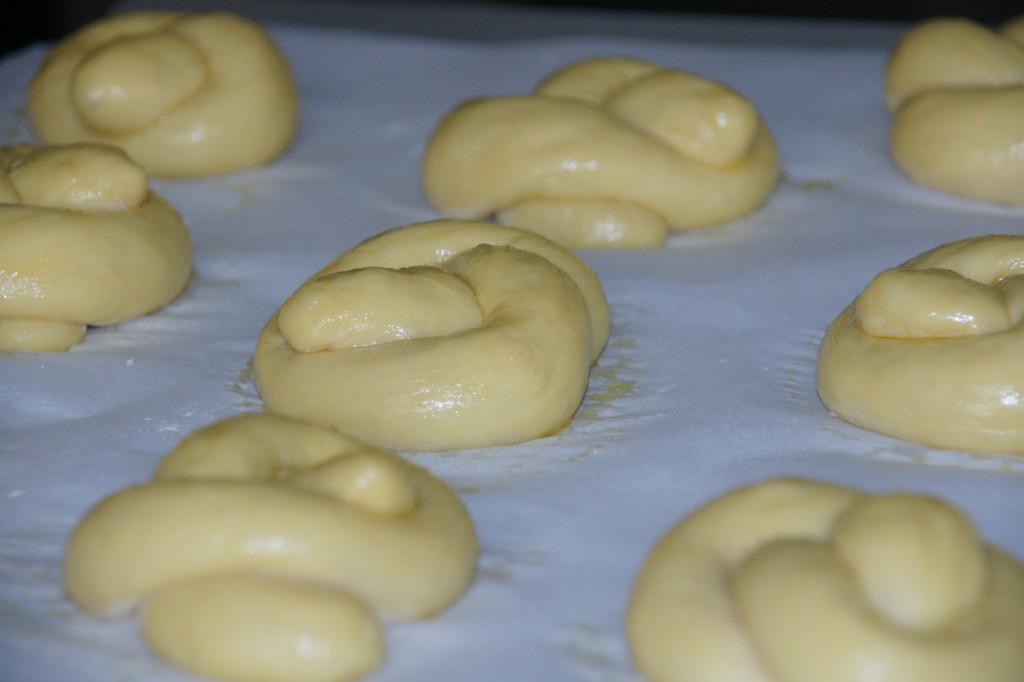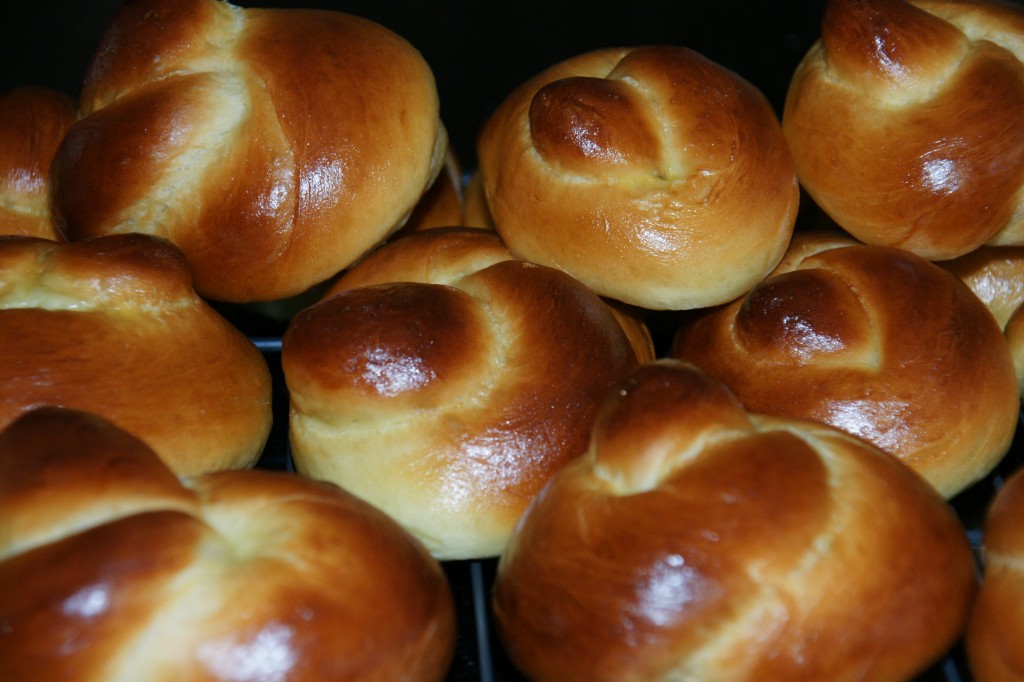 I started baking challah about 9 years ago soon after I moved to Ohio; in all honesty it was survival. There was no good challah here. Not even a good bakery. My sister Francine would ship me a box of them from New York and I would put them in the freezer. If I went back for a visit, the car ride home was usually unbearable as the aroma of the breads filled the car. It was loaded with as many challahs as the car could hold. Then one day, I was taking a Torah study class and the Rabbi's wife taught us how to make challah. She didn't really have a written recipe, so like I had done for so many years with my mother, I stood next to her and wrote everything down. When I got home, I typed it up for myself and the other girls. That night, my family couldn't believe I baked bread! I have to be honest, I couldn't believe it either.
It became one of those recipes everyone wanted a copy of. Then after sharing it with dozens of people, I lost my challah mojo. When they baked, they came out cracked on top and sometimes baked uneven. I thought it might be a problem with my oven so I had it checked – oven was fine. I emailed Marcy Goldman (a wonderful baker and cookbook author) who advised me as to why she thought this might be happening. She questioned my rise time and whether or not I changed any ingredients. I was letting it rise the same but had changed my yeast. I tried it again and still wasn't the same. What I realized since is when something is successful, leave well enough alone. If you have a chance to pick up her book A Treasury of Jewish Baking, do so – it's filled with amazing and delicious recipes!
Then I reached out to a good friend of mine (also named Marcy!) who also bakes challah every Friday night and are absolutely delicious! We baked together and it was bashert (Yiddish for meant to be). She was using Marcy Goldman's sweet challah recipe. Needless to say, they came out perfectly! Thank you Marcy and Marcy – I have been using this recipe ever since and getting rave reviews for it. Sometimes change is a good thing!
So here is my Splash! on Marcy Goldman's Sweet Raisin Challah
2 tablespoons dry yeast (Fleishman's active dry yeast)
1  3/4 cups warm water
1/2 teaspoon of sugar
3 eggs plus 2 egg yolks (at room temperature)
1/2 cup light olive oil (or other baking oil you choose)
1/3 cup sugar
1/3 cup honey
3 1/2 teaspoons kosher salt
6 to 7 cups bread flour
1  1/2 cups cranberries (optional)
egg wash: 1 egg, pinch of sugar, pinch of salt 1 teaspoon water (use in 2 steps)
In a 2 cup glass measuring cup or bowl add the warm water, yeast and sugar. Mix and then let stand for about 5 to 7 minutes for the yeast to bloom (becomes foamy on top).
In a large mixing bowl, add the eggs (at room temperature), sugar, honey (see my favorite things page for a tip), oil, and salt. Mix well. Combine the two liquid mixtures. Add the flour one cup at a time and mix. Once it becomes too difficult to mix with a spoon, I start to use my hands and mix the dough until it is smooth and elastic. I knead the dough right in the bowl but you can turn it out onto a floured board and knead it that way. Add flour as needed and knead only until the dough feels smooth about 12 turns or so.
Place the dough into a large lightly oiled bowl. Place plastic wrap over the bowl cover it with a towel and let the dough rise for about 1 to 1 1/2 hours in a warm place. Check on it in 1 hour. If it has doubled in size it's ready to braid.
Line a couple of sheet pans with parchment paper and set aside. Punch the dough down and then turn it out onto a floured surface. Split it in half or into 3 pieces. In the past, I would make 2 very large challahs from this recipe but have recently started making 3 out of it. Making one challah at a time, take one piece of dough and split that into thirds. Roll each into snakes approximately 10″ to 12″ long. Put the snakes next to one another, connect them on one end and start to braid them. Place the challah onto a cookie sheet. Do the same with the other two pieces of dough. Place them on the cookie sheets leaving plenty of room between them. Brush with the egg wash and put in a warm spot for about 30 to 45 minutes. They will almost double in size.
Preheat the oven to 350 degrees
Brush the challahs again with the egg wash and place in the oven for 30 to 40 minutes or until golden brown on top.
This recipe will make 3 nice size challahs or two very large ones. Enjoy!