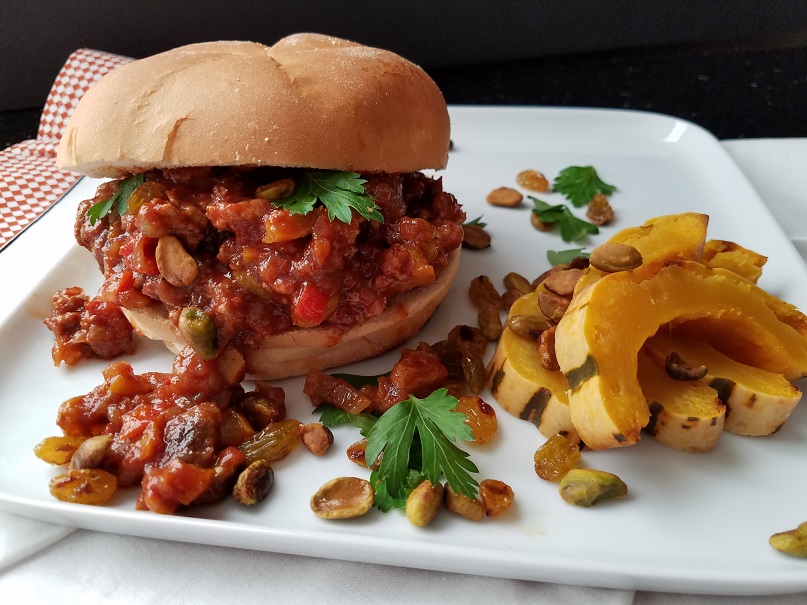 What's for dinner tonight? Turkey Sloppy Joes with a Surprising Indian Twist!
You can say I'm kind of a cooking show junkie. Most people who know me aren't surprised to hear this at all. Of course I'm a Chopped fan – who isn't? And, don't we all want to know what Ina is going to cook for Jeffrey Friday night – spoiler alert… it's probably chicken. Then there is my summertime guilty pleasure – The Next Food Network Star. If you've never seen it, you must. I secretly fantasize about being on the show. However, I think the stress would get to me. There I stand as the clock is ticking, I run to get to get my ingredients, slip on olive oil and there you go! No, just kidding – I'm actually the winner of season 14!
Day to day I often feel like I'm a contestant on a cooking show. I'll ask my husband what he wants for dinner and he will surprise me and say something I don't expect – like sloppy Joes! Sloppy Joes – is he serious? Is he 12? Full disclosure, I have never had one before so I shouldn't be so quick judge. This becomes my challenge and my show begins! I look through cookbooks, magazines and Google different recipes until I find something that sounds good and I can work with.
In this case, I remembered an episode of Aarti's Party (NFNS season 6 winner), she made Sloppy Bombay Joes. It had ground turkey, raisins and pistachios. What's not to love about that combo? But in sloppy Joes? Will that work? Of course it's not exactly what my husband had in mind, but he loves Indian food, and he did ask for sloppy Joes! He knows I love to try new recipes and he also knows I probably wasn't going to give him exactly what he asked for anyway.
At the end of the day, it was a winner and we all loved it! The crunch from the pistachios, sweetness from the raisins and honey combined with the warmth of the Indian spices was so comforting and delicious. I now make it all of the time. While the traditional way to eat a sloppy Joe is to have it on a roll, I ate it in half of a delicata squash and it was amazing! I have also served it over rice – also delish!
The first time I made this dish, I made it close to the original recipe, then I put my splash on it: less oil, more spices, tomato paste to thicken and add richness to the dish. I did not use a serrano pepper: if I never mentioned this to you before, I have a fear of spicy peppers! Instead, I added heat to the dish by way of ground red pepper. The original recipe called for half and half and since I keep kosher (no meat and dairy together), that's a no – no so I omitted it. There you go!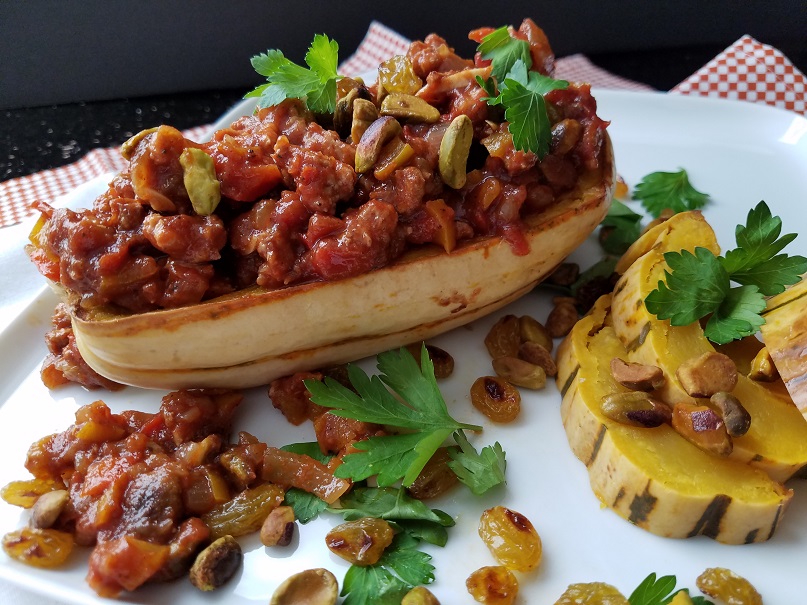 This recipe is adapted from Aarti Sequeira. Okay chefs, you have ground turkey, pistachio nuts, raisins, garam masala*, and tomato sauce… Your time starts now! Enjoy!
Ingredients
Sauce:
1/2 tablespoon extra-virgin or light olive oil
1 tablespoon minced ginger or 2 tsp. dry ginger
2 cloves garlic, minced
2 teaspoons garam masala*
½ teaspoon cumin (optional)
1 teaspoon paprika
¼ to 1 teaspoon ground red pepper (start with ¼ t. then add more to taste)
1 (15-ounce) can tomato sauce
1 cup water
½ to ¾ can tomato paste
Turkey:
2 tablespoons extra-virgin or light olive oil
¼ to 1/3 cup white or black raisins
¼ to 1/3 cup shelled pistachios
1 large white onion, finely diced (about 1 cup)
1 red bell pepper, seeds and membrane removed, finely diced
1 yellow bell pepper, seeds and membrane removed, finely diced
1 teaspoon kosher salt
1 pound ground turkey (I use white meat only and it's okay if it's a little over 1lb.)
1 to 2 teaspoons honey
Small handful chopped fresh cilantro or parsley
4 to 6 hamburger buns
optional: ½ roasted squash or brown rice
Begin by making the sauce:
Warm the oil in a medium saucepan over medium heat, until it shimmers. Add the ginger and garlic. Sauté until the ginger and garlic become fragrant, this takes less than a minute so stand and watch it. Add the garam masala and paprika and sauté for 30 seconds. By adding spices to oil, it deepens the flavor. Stir in the tomato sauce and water. Bring to a boil, and then reduce the heat and simmer, uncovered, until thickened, about 15 minutes.
While the sauce is cooking, prepare the turkey:
In large skillet, warm 2 teaspoons of oil. When shimmering, add the pistachios and raisins. Cook until the raisins swell up and the pistachios toast slightly. Remove from the pan and set aside on a plate lined with paper towel.
Return the pan to medium heat, add 1 ½ tablespoons of oil, stir in the onions and bell pepper; saute until softened and starting to brown. Stir in the turkey, breaking up the big lumps. Cook about 5 minutes or the turkey is opaque and cooked through.
Your sauce should be ready at this point. It's at this point I add a little tomato paste to thicken. Add in the red pepper to taste. Pour the sauce into the skillet with the turkey. Stir and bring to a boil, then lower the heat and simmer until the mixture has thickened slightly, about 10 minutes.
Once the turkey is cooked and the sauce has thickened a little, add the honey, pistachios and raisins. Stir through and taste for final seasoning. Before serving, garnish with fresh cilantro or parsley.
Toast the buns, fill with the turkey mixture and serve and eat with your hands! Oye I can't believe I'm telling you to eat with your hands… enjoy!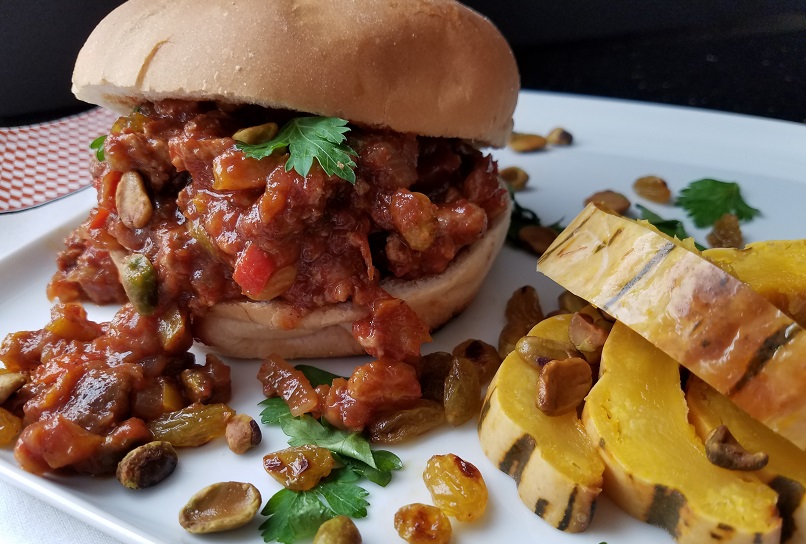 *Garam masala is an Indian spice containing cardamom, cinnamon, cloves, cumin, black pepper and cardamom. I use a brand from Whole Foods, it's a company called Fronteir Co-op. There are various brands and can be found in most grocery stores.